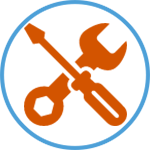 Ever since the economy took a nosedive in 2008, consumers have been looking to save money wherever they can. On their grocery bill, at the gas pump, buying clothing, and even on home energy costs. Unfortunately, fraud is everywhere and too many people have been taken advantage of, which is why it's more important than ever to choose a reputable contractor when you need things like resedentisl HVAC services.
In the Greater Toronto Area, it's never been easier to find the best heating and cooling contractor since 1992 than by picking up the telephone and simply calling the professionals at Tropic Air.
But finding the best contractor means more than choosing one with the slickest advertising or catchiest radio jingle. You want reliability, professionalism, dedication to customer service, and a commitment to value.
At Tropic Air, our professional staff also provides air conditioning services in the areas of installation, cleaning, maintenance, and repair.
Air Conditioning Installation
When considering a whole house air conditioner, factors to consider include the size of the home, and how efficient of a model you want to install. By knowing the square footage of your residence or business, you'll have a better idea of what size – or ton – central air conditioner you need to buy. One ton equals 12,000 BTUs each hour, the same energy it takes to melt 1 ton of ice daily. Every 400 square feet needs one ton of capacity, meaning, for example that a 2,000 square foot area needs a 5-ton air conditioner.
Because of ballooning energy costs, home and business owners should always look for an air conditioner unit with the highest Seasonal Energy Efficiency Rating (SEER) as determined by the U.S. Department of Energy and accepted internationally for whole house air conditioning systems. At Tropic Air, we recommend you look for a SEER number between 13 and 17, which determines the price of the unit and installation costs.
Air Conditioning Cleaning
The professionals at Tropic Air are the number one choice for air conditioning services in the Greater Toronto Area, but part of our success is educating costumers on choices, including giving tips on cleaning their air conditioner themselves. Simple cleaning chores include making sure the area around it is free of debris like leaves, small tree limbs, and paper; and cleaning and spraying down the screen that protects the fan.
Maintenance
Annual maintenance chores are equally important, and remember that a little goes a long way. In this regard, we recommend customers change the air filter once a month. The purpose of a clean filter is to ensure clean air – and unobstructed air – is blowing through your duct work. It also keeps the inside of the unit free of debris. The compressor coils should be cleaned annually, too, and this is another kind of air conditioner service most home or business owners can handle themselves. To do so, just spray the condenser coils through the protective enclosure with air conditioner cleaner; let it sit for 10 minutes, then spray down with a garden hose.
Air Conditioning Repair
If you notice that your air conditioner isn't keeping your residence or business as cool as the temperature setting, then it may be time for more involved air conditioner services, meaning it's time to call Tropic Air for repair work. This could mean the unit needs to be recharged with coolant, which can only be handled by a licensed professional.
Finally, the professionals at Tropic Air are on call, day or night. We can be reached in person at our office, on the phone, or via email through our website.
So contact us today and receive the best air conditioning service in Toronto @ (416) 492-7633.