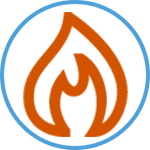 There are many different heating services. However, nothing warms the heart or home like a hot, clean-burning fireplace. But if that fireplace isn't properly maintained or cared for, it becomes not only a source of annoyance – soot everywhere – but health risks, too – smoke not being vented properly.
High-quality fireplace services are in demand this time of the year as many homeowners prepare their fireplace for winter use, so this is the best time to contact Tropic Air for all your installation, cleaning, maintenance, and repair needs. We're honored to have served thousands of satisfied customers since 1992 in the Greater Toronto Area, and can be your one-stop source for premium fireplace services at affordable prices.
Fireplace Installation
When it comes to fireplace installation, one thing we need to clear up right away is this simple fact: Unless you are a licensed professional with experience in fireplace design, installation, brickwork, electrical work, or any other facet of this demanding chore, installation needs to be left to the professionals. In all cases, installing a fireplace is difficult to work, whether it's being done in conjunction with a newly constructed residence or business, or as part of a renovation. Precise measurements need to be taken, bricks will need to be cut, permits need to be pulled, flues installed, inspections scheduled – you get the picture.
Fireplace Cleaning
One of the simplest tasks related to fireplace services that the average homeowner can take on is cleaning the fireplace. In most cases this involves removing ashes, removing soot and fire stains, removing stains from the mantle and other areas near the fireplace inside the residence, and maintaining the chimney from outside the residence or business. Maintaining the fireplace chimney may be the most difficult of all tasks for a homeowner to attempt, as it may require working on the roof where the chimney is most visible.
Fireplace Maintenance
Ongoing maintenance is another fireplace service task that the professionals at Tropic Air can handle, or can provide tips for you to handle on your own. Cleaning glass doors is a common maintenance task. This involves making sure the glass doors are cool and then scraping off any thick grime deposits with a razor blade. While you can buy glass cleaner at a fireplace store, we have a less costly solution. Simply add a few drops of liquid dishwashing detergent to a bucket of warm water, or add a cup of vinegar to a gallon of water. Next, apply the cleaner by spraying or sponging it on, and then wipe it away with a lint-free cloth (hint: a newspaper works great, as they are naturally lint-free).
Fireplace Repair
Like installation, repairing a fireplace is a service that the average homeowner – unless trained and licensed – should not attempt. Of course, if a wooden fireplace mantle has a crack or needs a minor repair, then have a go at it. But for truly complex repairs, like a damaged or corroded flue, or a screencap that's come loose, call the professionals at Tropic Air.
Finally, the professionals at Tropic Air have been in business since 1992 and have thousands of satisfied customers for a reason. We do great work at affordable prices, and never forget that your satisfaction – and our reputation – is on the line with every job.
Call us today, drop us an email, or give us a call @ (416) 492-7633 for any fireplace services you need assistance with.